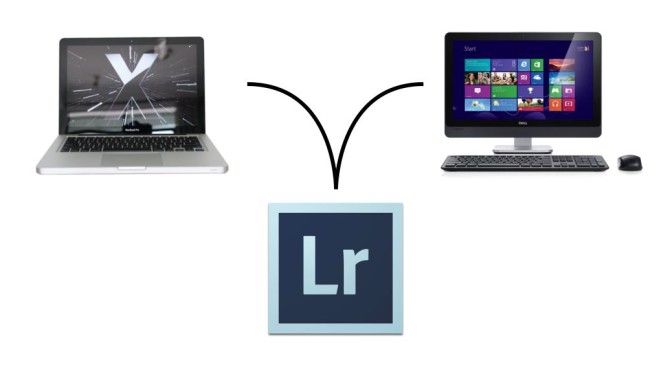 Using one Lightroom catalog on Mac and PC
Adobe allows to install Lightroom on two computers independently of the platform. You can install Lightroom on a MacBook and on a Windows-PC without breaking the license.
But it is possible to access the same photos and the same catalog from both devices?
This how-to shows how you can setup your photo pool and your Lightroom catalog to access them sequentially from a Mac OS X- and a Windows-PC.
Two scenarios will be discussed. The use of a NAS-Server from Synology with its Cloudstation service and just a external hard drive.
Restrictions
First, it is not possible to access the same Lightroom (LR) database simultaneously from two or more computers. The LR database does not support multiuser access. But you can access the catalog successively.
LR blocks the simultaneous access of a database. So it is not possible to do this even by mistake and that avoids a database corruption.
However you should take care of backups of your photos and LR catalogs anyway.
Requirements
Lightroom (any version should work)
Central storage location for your photos:

External hard drive or
Synology NAS-server with activated Cloudstation-service.

Local storage for the LR catalog:

External hard drive (you can use the same drive you are using for your photos) or
Cloudstation service which synchronizes your server catalog with a local one.
The LR catalog has to be stored locally to access it with LR. A network storage is not accepted by Lightroom at all (Even the offline files function of Windows Pro/Business or higher on a PC notebook does not work with LR catalogs).
The Cloudstation is a network service of Synology. It synchronizes folders on your own Synology NAS-Server (Diskstation) with folders of the same name on your Windows- or Linux-PC or Mac. It is similar to Dropbox, Wuala, Google- or Skydrive but the data is stored on your own server and not on a server of a service provider. Cloudstation is a home cloud service.
Possible hardware- and software scenarios
Two scenarios will be discussed:
Computer 1

(mobile)

Computer 2

(stationary)

Photo storage

 

Catalog storage
1
MacBook with Mac OS X 10.6 (Leopard)

Synchronizes photos/catalogs via Synology's Cloudstation client

PC with Windows XP/Vista/7/8 (all versions)

Synchronizes just the catalogs via Synology's Cloudstation client

Synology NAS-Server

with Cloudstation service

Synology NAS-Server

with Cloudstation service

2
MacBook with Mac OS X (version compatible with LR)
PC with Windows XP/Vista/7/8 (all versions)
External hard drive*
External hard drive*
*contains catalogs and photos. The recommended file system is FAT32 (external drives are shipped with this system generally) because both operating system can read and write it. A 2.5″ sized drive (compact form factor and no power supply is needed) with a capacity of 1TB or more and if applicable with USB3 interface is recommended.
Preliminary
Scenario 1
Install Cloudstation service in DSM via Package center.
Activate the Cloudstation service and your username in the Cloudstation control center.
Install the client software on your Mac and PC downloaded from Download-Center.
Create a directory each for your photos and catalogs in Filestation via DSM.
Because the PC can access the photos via fast gigabit ethernet from the server you should make sure that the PC synchronizes the catalog folder only. Disable the photo folder in the Cloudstation client software on your Windows PC.
Copy your photos and catalogs to the appropriate folder on the server or your local Cloudstation location. Synchronization starts automatically and could take a little while. You have to take care that you have enough space on your MacBook hard drive. Keep in mind that you need some extra space in the future.
Scenario 2
Create a directories for your photos and catalogs on the external drive
Copy or move your photos and catalogs to the appropriate folder.
Working with Lightroom
Start Lightroom on one of your computers (here MacBook) and take care that you have access to your photos and catalogs.
Open the catalog from your Cloudstation folder (scenario 1) or from your external drive (scenario 2).
The question marks at the folders area on the left and at the thumbnails area on the right show that the sources are offline or gone.

Right click on your photo folder on the left with the question mark and choose "Find missing folders…"
Choose your photo folder from the Cloudstation directory (scenario 1) or from your external hard drive (scenario 2):
Lightroom connects the missing folder very quickly if the relative paths are untouched:

Now you can go on your photo tour or vacation. You can import and edit new photos or even manipulate older photos.
When you are back home you just have to give your MacBook the chance to synchronize with Cloudstation completely (green check mark ) before you can work with your new photos/Catalog on the PC (scenario 1). If you use a external hard drive instead, you have just to connect it with the PC. (scenario 2).
To work with your photos on your PC perform all steps above on your PC's Lightroom. That works fast and reliable with me always. On your next tour you do the same again on your MacBook. The connection with the missing folder works even on the go. You just need access to your data (if synchronized or if you have your external drive with you).
Pro's and Con's of both Scenarios
Pro
Con
Scenario 1

Central storage and every time accessibility of photos and catalogs
No searching for external drives with photos/catalogs
Automatic backup of your data is easy and reliable
Additional functions of your NAS (media server, etc.)

Expensive
Waiting time to perform synchronization
Disciplined user
Possible conflicts if editing the same photos on both computers without prior synchronization**

Scenario 2

Cheap
Easy to realize
No configuration

Automatic backup of your data is not easy to realize and not reliable, because your drive is not connected always.
Possible loss of all photos and catalogs by theft, hardware defect or lost.
Handling is uncomfortable.
**If a conflict occurs you have to decide for one version. This is an important drawback of scenario 1 . A data loss in form of lost editing steps is possible. Data loss in form of lost photos or corrupted database is IMHO not. And you have always a backup for any case generally. Anyway you need discipline for scenario 1.
My Workflow (Scenario 1)
UPDATE July, 14th 2015: Because of a lot of comments and e-mails concerning how and for what purpose I use scenario 1 I decided to describe my typical workflow below:
First I synchronize the Lightroom catalog on both machines (Windows-PC-Desktop and Mac OS X-notebook computer) via Cloudstation. On the notebook the photos have to be  synchronized as well.
I connect LR on my notebook with the photos as described in "Working with Lightroom" above.
I go out for a photo tour or for vacation.
I take photos and import them in the Notebook's LR on the go. I can work on them as well as on the older ones, because I have all my photos synchronized on my notebook.
I come back home.
I start my notebook computer, connect it via wired LAN to my network and let the catalog and new photos synchronizing via Cloudstation service to my NAS automatically. This takes a while.
After synchronization is accomplished I shut down the notebook.
I boot the Desktop-PC and wait till it has the current catalog synchronized. (The photos do not need to be synchronized to the PC because the PC has fast access through Gigabit-LAN to the photos stored on my NAS.)
I connect the photos via "Working with Lightroom" on the Desktop-PC's LR.
I work on the photos on the PC's LR.
Before I go on the next tour, I start the notebook, connect it to the network and let it syncing.
I repeat all steps from 2 onwards.
Conclusion
Because of the Lightroom function "Find missing folders…" you can access the same photos and Lightroom catalogs from Mac and PC. It is also possible to do so if you synchronizes your data via Synology's Cloudstation service on a Synology NAS server. But you need some discipline.
IMPORTANT: It is not possible to work simultaneously on the same catalog from both computers but working successively with MacBook and PC is possible with just a few mouse clicks.