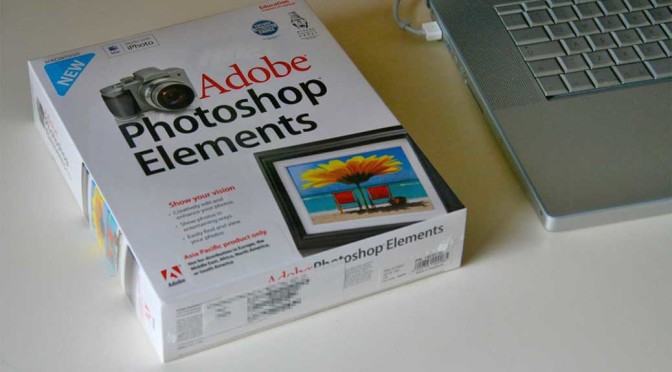 Field Report Photoshop Elements 8 (2/2) – Editor

In the first part of this field report I reviewed the Organizer of Photoshop Elements 8. In this part I review the Editor of PSE 8. It is based on Photoshop CS4.
Adobe cropped some functions and tools of CS 4 in PSE's Editor but added some new ones which were designed for beginners.
Whether these crops constrains my work flow or not shows the following report.
The Editor
The organizer fulfills the biggest part of my workflow, that I described in the first part. only #5 is left:
Photo processing
RAW converting
Stitching panoramas
Correcting lens distortions and aberrant lines
HDR-Editing
Retouching, etc.
These tasks can be done in PSE's Editor.
User interface
In fact PSE's Organizer is able to do some basic photo processing tasks but they can not be controlled well. Moreover Organizer's features can not handle RAW photo files non-destructively.
The Editor's user interface (UI) looks a little bit different to normal Windows programs. The color of the UI is dark grey as many other applications in this field. It has a menu bar at the top, a toolbar at the left and a tool dependent option bar below the menu. At the right side there is a multi function sidebar located. It contains different palettes, as histogram, layer, etc. At the bottom you find a project bar where all your opened files are displayed as thumbnails.
If you click on the maximize button of a photo window the whole screen and all UI components will be covered by it. This could be handy if you use two screens, where you have the photo on one and the UI on the other screen. But in my opinion it is less useful on one screen computers. However to maximize the photo window inside the Editor window, move the photo window to the top of the working area (orange line below the option tool bar). A blue frame will appear and then release the window. As the consequence the photo window is maximized inside the Editor window only (see screenshot above). If you get used to it you may work well with this special behavior.
If you have more than one file opened it is easy to arrange them with the arrange button (right to the blueish PSE icon at the top). The sidebar on the right is shrinkable to offer more space for the photos.
Tip: On almost all filter dialogs you can change the CANCEL to a BACK button by pressing the ALT key. Than it is easy to undo filter actions when the dialog is still opened. This function is very handy and I use it a lot.
Now I would like to direct the attention to the sidebar on the right. On the yellow tab you can change the editor mode:
Full Edit: Maximum control over the editing process
Quick Edit: Sliders for a quick and easy fix
Guided Edit: Wizards for the most common edits. Very useful for unexperienced users.
The tabs "Create" and "Share" of the sidebar are exactly the same as on the Organizer and have been described in the first part of this field report.
Limitations of Photoshop Elements 8 in comparison to Photoshop CS 4
There are a lot of functions missing in PSE 8 if you know CS 4:
Adjustments: Color Balance, Match Color
Layer Masks, Layer Comps, and Quick Mask mode
Some adjustment layers (curves, color balance, selective color, channel mixer)
CMYK and LAB color modes
Combine multiple exposures to create high dynamic range (HDR) images
Channels Palette
Recording custom Actions (for batch processing)
Smart Objects, Smart Guides
Lens Blur Filter
Vanishing Point Tool
Pen tool and paths palette
Editing History Log
Text on a path, advanced text formatting
Advanced Layer Style manipulation
Advanced Color Management
Advanced web features such as rollovers and slicing
Customizable tool presets, keyboard shortcuts, menus and workspace
(Source: Digicamhelp)
The experienced user has to decide if he or she can live with this limitations.
However PSE8's Editor is based on CS 4 and contains most of its functions but many are deactivated internally. Some Plugins "activate" resp. add some missing features. Visit the webpages of Elements+ and SmartCurve for details.
RAW photo developing
To edit a RAW file non-destructively you have to load it into a RAW converter. PSE 8 contains ACR 5.5 (Adobe Camera Raw). In comparison to ACR of Photoshop CS Adobe crops some features in ACR for PSE 8.
But ACR is able to load and process multiple files at the same time. This is useful if you would like to process photos of a panorama session similarly before stiching.
Stitching panoramas
One of the Photomerge® functions of PSE 8 is panorama stiching. You have very less control over the stitching process but the results are always pretty fine. Even my hand-taken photos were stitched properly.
For me the main advantage of the built-in stitcher is the possibility to create panoramas from RAW files directly without converting them into JPEGs or other formats. This is stitching the easy way.
Correcting lens distortions and aberrant lines
I often take photos with short focal length. To correct lens distortions and aberrant lines PSE 8 offers a comfortable filter. You find it in the filters menu.
A really nice filter. I have used it quite often.
High Dynamic Range images (HDR)
Many photo scenes have a higher dynamic range as the sensors of digital cameras – even of DSLRs – are able to handle. If you took exposure bracketings the  Photomerge function "Exposure" create a HDR image almost automatically. Till now I have not tested this function.
More Photomerge® functions
The Photomerge family offers a lot more functions than the already described ones.
Photomerge Faces combines multiple facial features to create one composite face.
Photomerge Scene Cleaner creates the perfect scenic photo from multiple photos. You can eliminate unwanted elements like tourists that inadvertently wandered into the scenery. For best results, the multiple images used with Photomerge Scene Cleaner should be of the same scene taken from the same angle.
Photomerge Group Shot creates the perfect group photo from multiple photos. For best results, the multiple images should be from the same photo session.
I have not used one of this functions till now except scene cleaner. It worked pretty well on one of my photos.
Not a Photomerge function but also interesting is the "Recompose Tool". It facilitates intelligent resizing of photos without changing important visual content such as people, buildings, animals, and so on. Normal scaling affects all pixels uniformly when resizing an image. Recompose affects pixels in areas that don't have important visual content. Recompose enables you to upscale or downscale images to improve a composition, fit a layout, or change the orientation.
Intermediate conclusion
The Editor of Photoshop Elements 8 fulfills all my  requirements of photo editing. Even for ambitious users Plugins extend the Editor with a lot of functions from Photoshop CS 4. Some functions of PSE 8 are unique, e.g. the Photomerge® Scene Cleaner. Even for Correcting lens distortions and aberrant lines PSE supports you doing the job. If you want to stitch panoramas or create HDR images PSE 8 has all tools built-in. The integrated RAW converter ACR completes the positive image of the PSE 8 Editor.
On my Windows Vista box (Core-2-Duo 2,4 GHz, 4 GB RAM) the Editor runs pretty fast and the usage was straight forward – even though I had to get used to the unusual window management  first. Sometimes it takes a while from jumping from the Organizer to the Editor and vice versa even if both applications are already started.
In my opinion you are not able to buy a better photo editing tool for this price which is applicable for beginners and advanced users as well. Nevertheless professional photographers may prefer Photoshop CS.
I rate the Editor of PSE 8 with 4 from 5 stars.
Final conclusion
First of all Photoshop Elements 8 (Organizer and Editor) fulfills all my requirements of my work flow. The offered functions in the Organizer and Editor are thought-out and straight forward. The beginner was also considered as the advanced. PSE 8 handles RAW files as easy as JPEGs. Focused on hobby photographers I rate PSE 8's functional range and ease of use with full 5 stars.
But the consumption of resources are not low and in some less situations you have to wait where you do not expected. Storing photos on network drives is not recommended because PSE 8 becomes noticeably slower. Especially if you organize and edit RAW files. Sharing of catalogs in a network is almost impossible. Every client has to manage their own catalog. On systems where catalogs and photos stored on a network share PSE 8 becomes incredibly slow in many functions.
Processing many photos is not recommended. It takes to much time to load every single photo in the RAW converter and then in the Editor. A work flow tool as e.g. "Adobe Lightroom" is a more productive alternative. But if you have to process less then 50 photos per session your work flow is not bad.
Adobe provides a good online documentation on the Adobe-Website. You can also download a PDF file for offline reading there. Furthermore a lot of videos are available to get started easily. All help files and documentation are accessible from the help menu.
My final rating of PSE 8 is 4 from 5 stars. If you are a hobby photographer and if you work completely local and if you do not use old or weak hardware or to many photos per session I recommend PSE 8 for organizing and editing photos. But I also recommend to download the demo version on Adobe's website before purchasing.