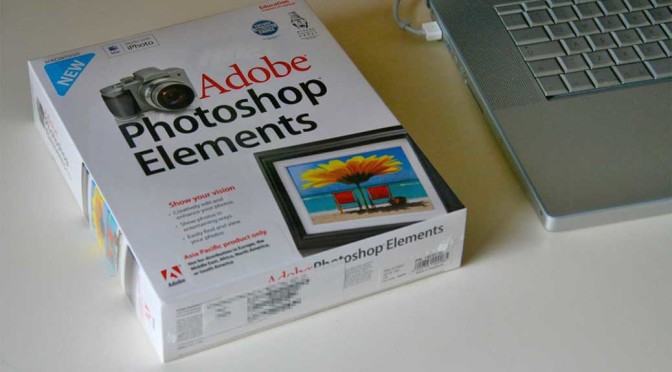 Field Report Photoshop Elements 8 (1/2) – Organizer

Hobby photographers will look for a photo organizer and editor sooner or later. Especially if you are working with RAW photos you expect a optimized work flow from such a "all-included" software with media organizer, raw converter, photo editor and additional built-in tools.
Photoshop Elements 8 (PSE) contains all these compounds and the manufacturer Adobe® is known for high quality and professional graphic software as Photoshop CS and Lightroom.
PSE 8 is divided into two parts: the Organizer, which manage all your media data and the Photo Editor, the image processor. The first part of this field report is focused on the Organizer.
My work flow and requirements
If a photo software fits the needs of a photographer depends on the personal work flow and requirements. For that reason it could only be reviewed on these aspects. Other people with other work flows and requirements may come to other results. The following work flow should be realized with PSE 8:
Importing
Add photos to one or more albums
Ranking and rating
Tagging
Photo processing

RAW converting
Stitching panoramas
Correcting lens distortions and aberrant lines
HDR-Editing
Retouching, etc.

Rearranging
Diashow creating or export as JPEG-files
PSE 8 schould run on an Core-2-Duo 2,4 GHz PC, 4 GB RAM, Windows Vista (32-bit).
First of all, PSE 8 fulfills all requirements above. Beneath a raw converter, a stitching and a HDR tool is built-in. Furthermore correcting lens distortions and aberrant lines are possible with a simple to use tool in the photo editor.
The Organizer
After starting PSE 8 a splash window appears where you can choose the Organizer by clicking on a button. The Organizer is able to fulfill #1-4 and #6-7 of my work flow list. It offers up to 7 different views (see screenshots below of the German version).
There is a seventh view available, the import batch view. It looks similar to the folder location view.
Importing
The photo importing tool covers #1 of my work flow. The advanced import dialog box offers a lot of options, like folder creation, renaming, manual selection and some more to load photos from my camera or card. These options should satisfy most users. If you want to add existing photos from your harddrive PSE 8 does not move the files but integrate them in the catalog.
Assigning, Rating, Tagging
#2-4 of my work flow could be done in the full screen view. In this view it is possible to rate a photo (up to 5 stars), tag it and assign it to one or more albums by flipping through the imported files. To quickly rate your files press the number key 0-5 and flip to the next one with the arrow key. This is pretty comfortable and effective and one of my favorite functions in PSE 8. In the full screen view you also can load the current photo in the Editor for further processing with one click or do some basic editing in the Organizer, as red-eye-effect removal. But you are not stack to the Editor as the only external program. PSE allows to load a photo to a different program than its Editor.
It is possible to save the tags not only in the catalog but in the files too. This is useful if you want to import your files with their tags in a different photo organizer.
Grouping sets and stacks
My second favorite feature of PSE Organizer is the opportunity to stack photos automatically or manually. That is a nice function to keep the media browser tidy. If you edit a photo in PSE Editor and save it a copy of the file will be created. When you switch back to the Organizer you do not find two thumbnails but one stack, a so-called grouping set, with the latest view of the photo as its thumbnail. If you click on the little triangle at the right the set expands and shows all photos contained in the set or collapses otherwise . I like this feature a lot. After editing in the RAW converter developed RAW files do not create grouping sets but the thumbnails show the last version of the files.
There is another way to stack photos, the photo stacks. PSE 8 can suggest stacking similar looking photos automatically. If you do not like that you can stack it together manually. Till now I have stacked photos manually only. Stacks can contain grouping sets and/or other stacks.
Grouping sets and stacks look exactly the same except of a different little icon on the upper right corner. There is a command in the menu to expand or collapse all stacks and sets with one click to have maximum control over your media browser view.
Managing, Correcting, Creating, Sharing
PSE 8 has 4 Tabs on its sidebar right from the media browser. They contain functions and tools for organizing and correcting photos, creating different photo media and sharing your photos.
Managing
PSE 8 organizes photos in catalogs, albums and with tags. Only one catalog can be loaded at the same time. But it can contains plenty albums and tags. PSE make full and incremental backups of your catalog if you like. The backup includes all photos, the catalog itself, tags, etc.
To fulfill #6 "Rearranging" of my work flow I assign photos to an album and reorder it by dragging and dropping. This is easy and straightforward.
To export the arranged photos according to #6 of my work flow is pretty easy and flexible with the "Export As New File(s)" command in the file menu. In the export dialog box there many options to choose the file type (original, JPEG, PNG, TIFF, PSD) the size an quality and filename and path. Furthermore photos could be added or removed from the export collection. This function is really useful for me.
The search command of the PSE Organizer is pretty advanced and has its own menu. In almost all cases I have found my image.
Correcting
Using the tools in the Fix tab of the Elements Organizer, you can quickly correct the most common problems in photographs. Customizable versions of some of these tools are also available in the Editor, but the simple versions here are designed to make corrections quicker and easier if you do not deal with RAW files. But if you need a quick fix for you JPEG photos this is a comfortable tool. Unfortunately you do not have any opportunities to control these processes nor the quality of the created file. But the original file will not be overwritten. In the Organizer a grouping set appears with both files (original and the edited copy) in it.
For editing and correcting RAW files the PSE's editor with its RAW converter is the right tool. There is a separate post for the Editor on my blog.
Creating and Sharing
There are so many opportunities to create (PDF-)slide shows, photo books, collages, flip books (WMV-movies), greeting cards and so on. The slide show editor is a nice tool to create slide shows. I gave it a try and I was surprised. It has more functions that I expected but it can not compete against other stand-alone slide show programs of course. Unfortunately you need Premiere Elements installed on your system to create a slide show DVD. By default you are able to create VCDs or WMV-movies (but up to DVD resolution).
PSE 8 offers a lot to share your photos. The function "E-mail Attachment" looks pretty interesting. PSE supports you by sending photos via email attachment. PSE converts and resizes your photos as you like and give the files over to your email program as attachments. Unfortunately the supported email programs are very limited. As far as I see only Microsoft programs are supported. Nevertheless this is a very handy function. The similar function "Photo Mail" crashes reproducibly on my machine. For the movie options in the Share-Sidebar you need Premiere Elements installed on your PC. It is also possible to share your photos online, on photoshop.com (2 GB free) or on a FTP server. Flickr is not supported (in the German PSE 8 at least) anymore. See John R. Ellis Faq for a workaround.
People recognition, Smart Tags and Online Synchronisation
PSE's people recognition detects and identifies people in photos and enables tagging them with the person's name. Tagging makes it easier to sort photos efficiently and select the required photos to create albums quickly. By default, all the new people tags are created in People Category of the Keyword Tags panel. This function looks pretty similar to iPhoto 9 from Apple. I do not need this option and I have not tested it seriously yet. I tried it with some less photos only. In some blogs and forums I read that the people recognition of Picasa do a better job.
Smart tags should make it easier to find media files by quality and content. Auto-Analyzer enables analyzing media files and identifying photos based on a quality such as shaky, dark, or bright. It should help you finding the best media files and eliminate the bad ones. You can use these tags for sorting the assets based on their quality. I have not used this option seriously either and can not give a fair review.
If you have a account on photoshop.com you can synchronize your photo with your albums. You need to create an "Online Album" before you can use the Online Synchronization. I do not know if this function works or not. I have not used it and I will not give it a try definitely.
Network capabilities
Unfortunately it is not possible to share a PSE catalog on a network. To use a catalog alternately on a desktop and on a notebook computer is not possible either. John R. Ellis wrote some workarounds in his Faq but not any convinced me.
You can store your photos on a network and access them via local installed PSE 8 from your desktop or notebook computers. But every computer and and therefore every PSE instance has to manage their own catalog with their own tags, albums, etc. And you have to live with less performance. If you stored both (catalogs and photos) on a network PSE 8 will become incredible slow in some features. I advice against this. Furthermore PSE is not able to "watch folders" if they are stored on a network drive. That means that PSE is not able to recognize new photos when they are saved or copied to your picture folder via external application. You have to add them to your catalog manually.
If you work completely local (catalog and photos stored on your computer) PSE works pretty fine.
Intermediate Conclusion
Photoshop Elements 8 Organizer has many nice and handy features. The photo stacks and grouping sets are really useful to keep your albums tidy. To rate, tag and assign your photos in only one step by flipping through it is a pretty nice feature of the full screen view.
PSE 8 can create many different output media to present your photos. The slide show editor is one of many useful tools. Unfortunately you need to have Premiere Elements installed to create Slideshow-DVD videos. But PSE is able to create WMV movies up to DVD resolution.
To share your photos with family, friends and colleagues PSE 8 Organizer offers a lot of opportunities. It supports you by sending photos via email or uploading it to an FTP server or your photoshop.com account or burn your photos on CD/DVD. PSE 8 does not support Flickr (in the German version at least) anymore. John R. Ellis wrote two workarounds concerning this issue.
The Organizer runs pretty fast on current hardware. I use Core-2-Duo 2,4 GHz, 4 GB RAM. You may get less performance with older hardware.
Access photos on a network drive via a local installed PSE 8 is possible but you have to live with less performance and every PSE has to manage its own catalogs. It is highly not recommended to store photos and catalogs on your network drive. In this case PSE 8 becomes incredibly slow. Furthermore it is nearly impossible to share a PSE catalog with more than one computer.
For local use I rate the Organizer with 4 from 5 stars.
The Editor of Photoshop Elements 8 is reviewed in the second part of this field report.